This list is my favorite subscription boxes to use for homeschooling. Every box offers a variety of fun, educating, and engaging learning experiences! I love having the different boxes every month to help break up our homeschooling routine and help the kids get excited about learning new things.
We have tried so many subscription boxes for the kids, mostly because we usually don't like to get them toys for gifts and we've found they love getting the fun boxes in the mail so much better! These even make great gifts for kids who aren't homeschooled. While they can be a great tool to use for homeschooling, they are also an awesome way to have fun and learn with your kids!
I am the kind of person who doesn't like to waste any money on unnecessary things. However, I would not call any of these boxes a waste of money. Considering the hands on learning experience and the quality time I get to spend with my kids doing them, all of these boxes are so worth every penny.
Disclosure: Some of the links in this post are affiliate links and if you go through them to make a purchase I will earn a commission. Keep in mind that I link these companies and their products because of their quality and not because of the commission I receive from your purchases.
---
Lillypost is a monthly subscription box that sends awesome kids books right to your door! They offer three options depending on the age of your kids: the Board Book Box for ages 0-3, the Picture Book Box for ages 4-7, and the Mixed Book Box for families who are looking for books at different reading levels. We've gotten a handful of Lillypost boxes over the past year and we always love every book they send us! I usually order the mixed book box that way Oliver gets some really awesome story books but Mar also gets one she can have without ripping up the pages.
One of the best things about this subscription box is the amount of money you save! The first box we received had books that normally cost $16.99, $14.99, and $5.99 totaling $37.97. The second box that came had books that normally cost $17.99, $17.99, and $8.95 totaling $44.93. But we only paid $17.95 for each box, that's a savings of $47.00!
I really love all of these boxes, but KiwiCo is definitely one of my favorites. Their boxes are age specific, with ranges from 0-2 to 14-104. I love this set up because the boxes will grow as the kids develop more. Plus the learning experiences are endless.
Each box includes parent instructions, a magazine for the kids, online DIY ideas, and three crafts or activities. The box pictured was all about music. It included directions and materials to make a xylophone, a tambourine, and a dancing streamer. The best part of the parent instructions is it rates the messiness and grownup involvement of each activity. So I know before we start if we can sit on the living room rug or need to move the party to the dining room table. I also know the activity is something Oliver can figure out on his own or if I might need to step in and assist.
Green Kid Crafts boxes are about meshing creativity with the STEM areas of school. The box that we got for Oliver was all about reptiles. It worked out great for Oliver as some of his favorite animals are reptiles. This box focused on a few different reptiles ranging from alligators to turtles to snakes.
Each section had a different activity that featured a different reptile. The activity would start with facts about the animal and would end with a craft. The box started by bringing out Oliver's creative side with a turtle that he had to fill in with different stickers to make a giant turtle mosaic. It then switched to math by having him make an alligator friend that helped associate numbers with the number of clothespins that acted as the alligator's teeth. The little book that came in the box had more information on reptiles and workbook type games as well. Overall, this box is an essential to developing creativity while teaching about the STEM subjects.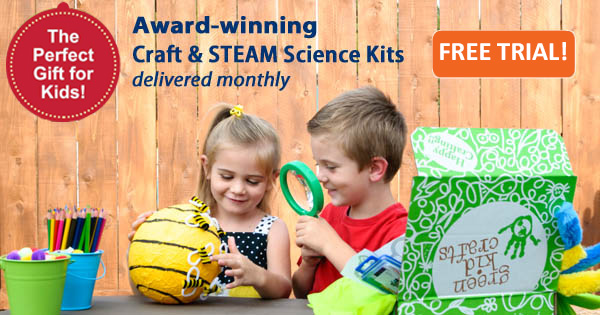 Groovy Lab in a Box is probably the coolest box of these. I really don't like science that much (English was more my thing) but these boxes are so much fun! Every month their boxes are full of fun, hands-on projects and an engineering design challenge, all focused on that month's STEM topic. Included in each box is a lab notebook, access to a special "Beyond…in a Box" online learning portal, and bonus supplies exclusively for the activities available through "Beyond…in a Box." These boxes place an emphasis on STEM learning and help develop critical thinking skills.
I originally ordered this for my three year old, only to realize when it arrived that it was a little more advanced than I had anticipated. First the book went over different kinds of pulleys and Newton's third law of motion. Then there was five different kinds of pulley systems to build. While Jake ended up doing most of the work, him and Oliver still had lots of fun together and hopefully Oliver got something educational out of it. Anyways, this is a really really awesome science box, just maybe for kids a little older.
ToucanBox is basically a craft subscription box. For those of us with no creativity this is a must. The crafts are easy, it comes with everything we need, and Oliver can help me if I get lost. One of the reasons I love this box so much (besides the price) is I can choose the crafts. So for our first box I chose dinosaur dress up and nature bag because I knew Oliver would love them. And he did. They have a few different ones to pick from and are always adding new things! Plus each box also comes with a little magazine full of games, experiments and activities.
The HelloBible box is special for us because it's the most important thing I'm responsible for teaching my kids. And sometimes it's not always easy to convey Jesus' messages to kids, there's still a lot I don't understand myself. But HelloBible breaks it down into easy to read stories, fun crafts, and engaging activities. The crafts and activities really help to make sure the message sticks with the kids.
One of my favorite HelloBible boxes we received was the Parable of the Lost Sheep. I love this message because I feel like it's very important for little kids to know but I never remembered learning it when I was a kid. The box included the story of the lost sheep, bible passages that go along with it, questions to discuss, a prayer, three crafts, a sticker activity and a few other small things. Overall, this box is especially worth the investment!
---